Kortrijk's nightlife mainly takes place in the old city center. La Bodeguita Del Medio knew how to survive through the years, being one of the few bars in the neighborhood keeping a constant popularity. The extension, baptized La Cubanita, will help it to continue this momentum.
The latter is conceived as a box inside a box and turns a leftover space in the plot into a new part of the palimpsest, completely isolated, physically and acoustically, from its surrounding.
As soon as one enters the new extension, the colors, music and interior decoration immerse them in an exotic ambiance. Embraced by the elevated balcony, the smooth bamboo floor invites to dance.
Here a central staircase curves the climb to the first floor which offers a more relaxed atmosphere with various seating arrangements. A circular opening in the ceiling forms a big concrete monolith out of the structural slab. This special shape refers both to the community and gathering together, while its regularity contrasts with the irregularity of the existing building
La Cubanita turns an urban insula into a vibrant worldly destination, fusing together the Eastern heritage of the owners and the Cuban theme of the bar. Asian neon lights, bamboo floors and exotic South American colors create a cultural juncture reflected in the unique atmosphere of the venue.
The open plan ground floor is convenient for an array of programs: dancing classes, movie projections or conferences, all enhancing the versatility of the space. Additionally, on the upper floor, a series of plastic tubes form flexible walls, dispersing the light and nurturing different spatial configurations. They invite the visitor to self-define his space, giving the possibility to accommodate different groups, functions and needs, both in terms of space and privacy.
Lastly, the 10m high roof is punctured with two skylights, flooding the enclosed space with natural light and animating the dance floor with a view towards the night sky.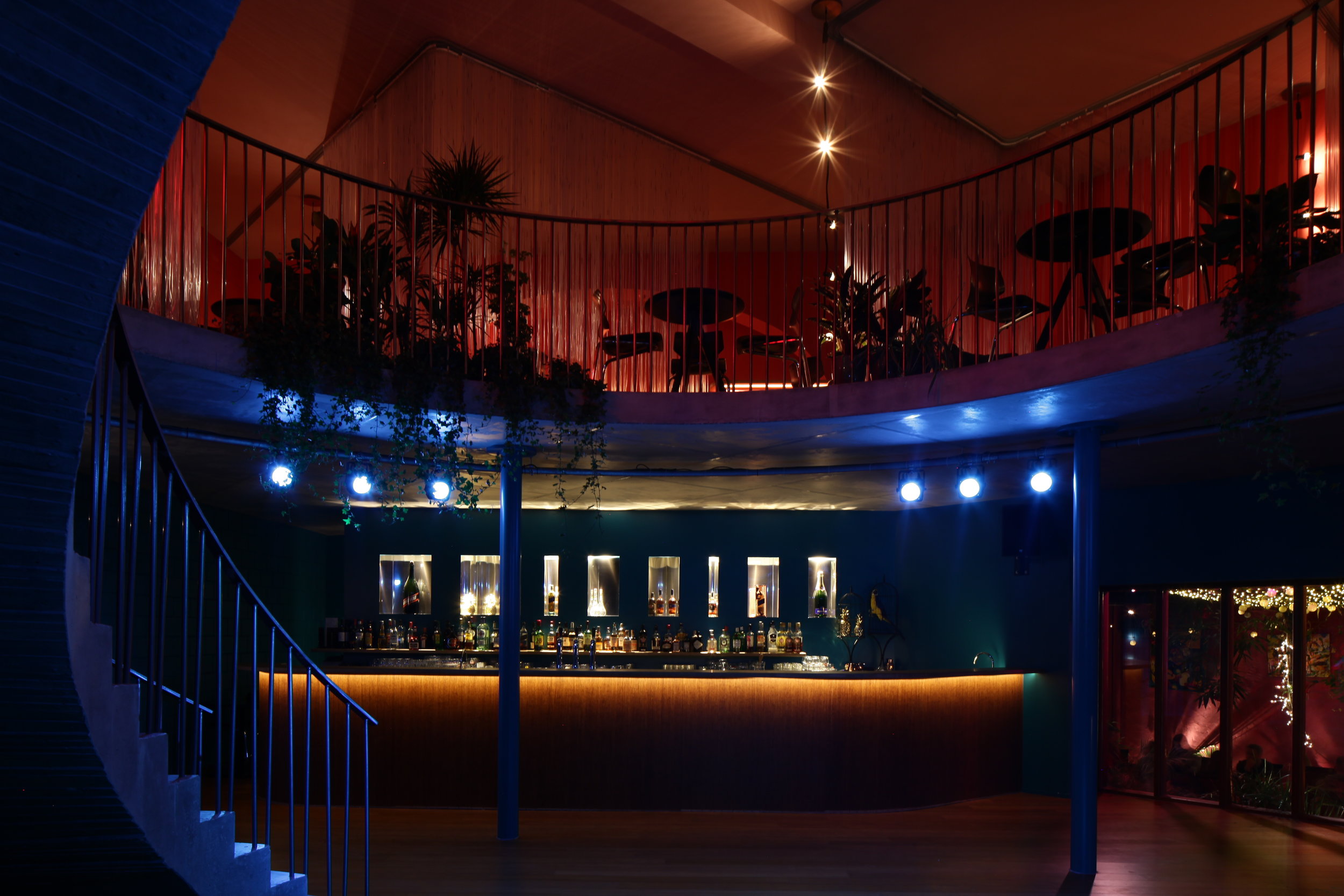 project: la cubanita
team: de baes
location: kortrijk, Belgium
status: built
year: 2018
program: bar & event space
photography: © johnny umans & © frans parthesius